Web development, Website design, SEO services company Delhi India
Centaurhosting is a reliable Web Development, Website Design, Web Hosting and SEO services company in Delhi India providing professional website designing, custom web development, ethical search engine optimization services. For more than 10 years we have consistently acheived client satisfaction in more than 500 web projects. We are perhaps the only Indian company that offers the same low price for International customers that we charge in India for top quality work.

Our experienced team of PhP programmers and website designers in Delhi India provides customer-oriented, scalable, low cost custom Web portal development, Ecommerce solutions, Content Management Systems, Wordpress Joomla Design and Development, Website design and other Offshore Web Application Development services to clients in USA, UK and Australia. Once the development cycle is complete our SEO's and Internet Marketing professionals help your web presence be noticed by the target segments. To make it a one-stop solution, we also offer web hosting solutions like Linux hosting, Email Hosting, Reseller Hosting and Domain Name Registration with fast reliable connectivity and control panels, backed by quality customer support from New Delhi, India.
Why Choose Centaurhosting As...
Your Web Development company India
Our web development company India offers custom web portal and application development as well as customization of open source software. You can also hire part time or full time web developers from us.
Our core PhP MySQL Programmers in India provide custom coding for Advanced CMS (content management systems), Ecommerce solutions, Shopping carts, Custom web portal development and programming of web based applications. SEO factors and thorough bug testing are mandatory components for our projects.
Besides custom coding, our programmers are adept at opensource like Wordpress design and development, Joomla Drupal development, Zencart, OsCommerce customization & other social media and community network development.
Your professional Website Design Company India?
Centaurhosting is a reputed website design company India with several years of web designing and online brand development experience.
We handle everything from Creative Conceptualization, Graphics & logo design to Flash animations and Presentations. Our web design portfolio is large and diversified.
Our talented web desigers in India provide not only good looking website design services but ensures that sites are customer focused, W3C compliant, compatible with most browsers / monitors and search engine friendly.
Your trusted SEO Company India?
For our SEO company India, search engine optimization means that (as your Internet marketing agents) we should help your business grow online. Basically our SEO services India Delhi are all about building a high quality user-oriented, frequently updated website that is easily indexable by search engines and then improving its Internet visibility.
As an ethical SEO company Delhi India, we offer a one-stop SEO service spectrum. From PPC management, Quality Link Building campaigns to Social and business network development, our SEO company India provides organic SEO and Internet Marketing services at very reasonable cost so that you can easily outsource SEO services to us.

Your preferred Web Hosting Provider from India?
To complete the service spectrum, our Affordable Web Hosting India solutions are hosted on industrial grade dedicated servers with RAID1 mirroring, backup, 100 Mbps full duplex cards, high speed SCSI disks and plenty of RAM. All dedicated servers are monitored 24x7 by technicians in New Delhi, India and USA.
Centaurhosting hosts in USA data centers that are "Tier-1 facilities" with superb multiple network backbones to ensure the highest uptime. We have a great track record and are well known in the web hosting industry for our responsive 24x7 support.
All shared Web Hosting India and Reseller Hosting India plans include the latest release of cPanel hosting control panel, PHP, Perl, online video tutorials and self help resources.
Your One-stop IT solutions Company
?
Centaurhosting is a One-Stop web service provider from Delhi India and offers a wide range of services from "ecommerce solutions" TO "database driven websites", "Search Engine Optimization (SEO services)" TO "Internet marketing", "domain name registration" TO "hosting and website maintenance". You do not have to hire separate companies for your Internet requirements.
Our web portal development company Delhi, web designing and hosting company Delhi, SEO company Delhi India offers special customized services in the NCR region. Direct face-to-face customer interaction and specialized on-site support is available for customers who want PhP programming,
web designing Delhi
,
SEO company Delhi
or
web hosting delhi
services in the cities of New Delhi, Gurgaon, Faridabad, Noida and Ghaziabad.
We have clients and resellers in many cities across India, USA, UK, Australia etc. and are dedicated towards one goal: Customer Satisfaction. Please do not hesitate to ask for referrals of customers in your country before ordering.
Guides and Resources
Quality Assurance

Our unending focus is on harnessing the best of marketing, strategic and technical skills for development of customer-oriented, innovative and affordable Web development India, Website design India Delhi and SEO Company India solutions. "Timely implementation of high quality workmanship" and "quality service at reasonable prices" are our major strengths. Give our company a try and experience our QOS.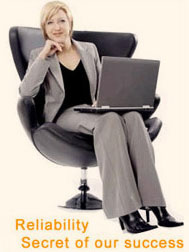 We accept all major Credit Cards.